Podcast: Play in new window | Download
Subscribe: Google Podcasts | Spotify | Stitcher | Email | RSS | More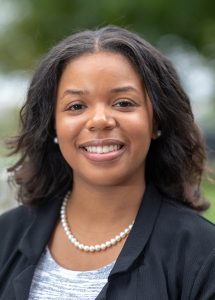 Podcast recorded via Zoom
As police brutality against African Americans airs on videos across the globe, as protesters continue to take to the streets across the U.S., and as African Americans continue to die of COVID-19 in disproportionate numbers, the United States is at a tipping point. CU on the Air host Ken McConnellogue discusses these important subjects – and the university's role in contributing to the solution – with Theodosia Cook, CU's new chief diversity officer.
What it's like to start a new job amid COVID-19, and concerns about those who aren't able to work from home.
The importance of meeting the needs of the community at this time.
The 16 standards National Association of Diversity Officers in Higher Education epitomize the role of a chief diversity officer.
Race in America as a huge issue and the advocacy that has risen in the streets.
Disproportionate impacts of being darker skinned in Mexico as well as throughout South America, how it leads to growth in to undocumented workers in the U.S. looking for opportunity.
In the past decade society has become more aware of the murders of black lives in this country, but we still aren't doing justice to teaching about black lives being valued in this country.
Most likely, police brutality and murder are not occurring more often, it's just more visible.
The Equal Justice Initiative National Memorial has documented more than 4,400 lynchings of black people in the U.S. from 1877 to 1950.
Of 1,000 people killed by police in the U.S. last year, 24% were black, even though African Americans only make up 13% of the population.
The lack and importance of K-12 education in teaching black history.
COVID-19 – 23% of deaths are African American, once again disproportionate to the 13% population. Read the 2020 McKinsey report on investing in black lives and livelihood.
The epidemic is harsher among underrepresented populations because of the lack of accessible health care and the lack of healthy food, creating underlying health conditions.
An added perspective of being a woman of color and an immigrant.
Gandhi – his earlier views and transformation toward peace and enlightenment.
Do protests bring about change? Yes! From the Boston Tea Party to the Civil Rights Movement to today's calls for equality, there is positive change.
Why Martin Luther King Jr. feared he brought the black community in America into a burning house.
Promote change through reflective thinking, really noticing the thoughts we have about different populations and evaluate, where do those thoughts come from?
Collaboration and education key to ending racism.
What CU is doing for Pride Month and the virtual parade.
The importance of listening to students to understand how to better support the effort, as well as provide guidance to them.
Adding our voices to what has happened before, and finding and providing insight into strategies that can help our community move forward.
Resources: