---
Nominate CU on the Air in the Podcast Awards' People's Choice and Education categories
---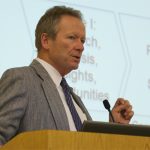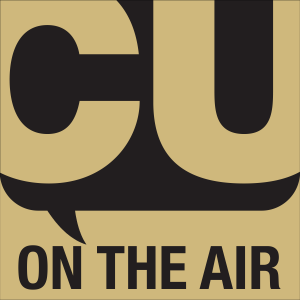 "CU on the Air" explores the University of Colorado's progressive, world-changing, life-saving research, providing leading-edge knowledge for friends of CU across the globe. Join Ken McConnellogue, vice president for university communication, as he chats with some of the most fascinating researchers in the country. Subscribe, and we'll CU on the Air each month. 
---
Host: Ken McConnellogue    Producer: Cathy Beuten    Audio Engineer: Jon Arnold
---
Contact Us
ontheair@cu.edu
University of Colorado | Office of the President | University Relations
1800 Grant Street, Suite 800 | Denver, CO 80203
General: (303) 860-5600 | Fax: (303) 860-5610 |Media: (303) 860-5626
---


Through our four campuses, the University of Colorado plays a profound role in the lives of individuals, businesses and communities throughout Colorado, across the country and around the world.  Nearly half a million alumni have led the way in business, science, the arts, health care and their communities, and they're joined by 15,000 more each year.  In Aurora, Boulder, Colorado Springs and Denver, all four of our campuses are all for Colorado.
---
About the CU System
The University of Colorado is a premier public research university with four campuses: the University of Colorado Boulder, the University of Colorado Colorado Springs, the University of Colorado Denver and the University of Colorado Anschutz Medical Campus.
With more than 67,000 students (and another 8,000 taking courses for credit), over 4,900 full-time instructional faculty members and another 1,200 research faculty members, CU is the largest institution of higher education in the state of Colorado. CU's annual budget is $4.5 billion.
CU researchers attracted more than $1.053 billion in sponsored research funding in fiscal year 2017-18. CU ingenuity helped launch more than 190 startups since 1994.
Academic prestige is marked by CU's five Nobel laureates, 10 MacArthur "genius" Fellows, 20 astronauts and 20 Rhodes Scholars.
For more information about the CU system, and to access campus resources, go to www.cu.edu.