Podcast: Play in new window | Download
Subscribe: Google Podcasts | Spotify | Stitcher | Email | RSS | More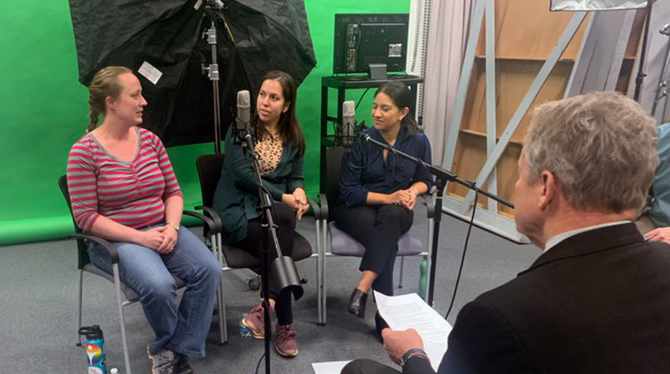 It's a disturbing paradox that while doctors and scientists encourage and promote the health benefits of breast feeding, women in science are leaving these careers in droves. Today on CU on the Air, we're talking with CU School of Medicine researchers and administrative support Michele Hoffman, Whitney Phinney and Pamela Alvarez Moran about the important steps they are taking to retain women in science.
Milk and Cookies is a CU Anschutz initiative that supports women scientists – and beyond – as they juggle their careers, education and parenthood.
The paradox: Health professionals promote the importance of nursing babies and family time but often don't provide accommodations for their own professionals.
More than 50% of women in science leave the field after having their first child. Lactation is only one of the concerns.
It is NOT OK for mothers to have to pump or nurse in laboratories or lavatories. If you wouldn't eat there, don't ask a mother pump or nurse there.
Concern over long hours and care for their children is a major reason parents leave careers in science.
Professional development is stymied for parents who are caring for children – there are few places to nurse at important national conferences. M&C is earning grants to help parents with childcare, facilities and more as they grow their careers.
Leaving a career to support their children, and the struggles coming back: Professionals typically have to start over at a lower level.
How Milk and Cookies came to be and the people it has supported.
How the initiative can expand to other campuses, businesses.
The monetary advantage to a department in preventing attrition.
Getting rid of the stigma – encouraging breast feeding in lectures, communal areas and welcoming children.
Getting in front of the need: Reaching out to employees and discussing parenthood at the start of young scientist's.
Working with women who are pregnant to put a plan in place for after the baby is born.
The need for a central location for the M&C initiatives – as well as a director – to thrive and grow.
Resources