Podcast: Play in new window | Download
Subscribe: Google Podcasts | Spotify | Stitcher | Email | RSS | More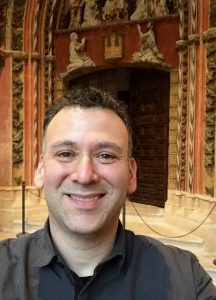 The co-existence of Christians, Muslims and Jews in Medieval Spain creates a fascinating snapshot of that period in history – the good and not-so-good – and offers important insights on co-existence today. In this episode of CU on the Air, host Ken McConnellogue speaks via Skype with CU Colorado Springs associate professor of history Roger Martinez about his research and activities surrounding the Middle Ages, early modern Europe and the Trans-Atlantic world.
A look at how massive open online courses (MOOCs) reach and teach people across the globe.
Medieval Spain and co-existence between Jews, Christians and Muslims
The good and bad of coexistence of the different belief systems
Who were the best craftsmen in Spain at building cathedrals?
Increased predatory behaviors, taxation by Christians against Jews
The Spanish upheaval in 1492:

Casting out of Jews
Conquering Granada
Christopher Columbus

The aftermath, passing to the Americas and practicing Judaism in secret
Conversions leading to family murder
"Corrupted blood," and the inability to hold office in government for a convert
Cardinal Bernardino Lopez de Carvajal – from Jewish roots to near papacy
Riots of 1390s against the Jews, who were blamed for the plague
Examining under what conditions people are truly bad to each other
Taking a look at the past, and trying to not make those mistakes again
The MOOC community connections
Martinez coming back to UCCS for one-on-one relationships with students
Jesuit teachings, "Care of the person."
3D model of the city of Plasencia and researching the transcripts
Martinez and his team received a $100,000 exploring the interchange of Spanish conquistadors and settlers in relationship to the Native American tribes. It will also explore in southern Colorado, what the first colonial Spanish life looked like.
Resources:
MOOCs
Books