Podcast: Play in new window | Download
Subscribe: Google Podcasts | Spotify | Stitcher | Email | RSS | More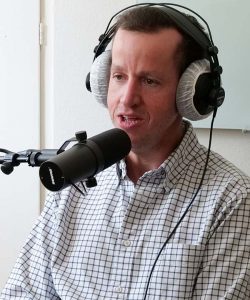 Benjamin Kwitek, director of innovation at the University of Colorado Colorado Springs, understands that innovation is critical to solving the problems our society faces. Kwitek understands the United States is at the forefront of innovation at a local and global level. At UCCS, he is also the innovator of the world's first Bachelor of Innovation.
What is innovation and why is it important?
How the U.S. is able to push boundaries and lead the world in innovation.
The importance of an educated population and university collaborations that lead to a culture of trying new things.
Angel investors and capital can turn a startup idea into a company that makes a huge difference.
The making of an inventor: Kwitek grew up in a family of creators and innovators.
Kwitek is the inventor of the technology in the Dr. Grip Pen.
He recently got his 10th U.S. patent with more pending.
Portable cinnamon roll sold at Taco Bell and others is another invention.
UCCS is unique that it offers a Bachelor of Innovation degree – the first in the world.
Innovation is created in teams – not big teams just enough for two pizza.
The importance of complementing strengths and skills creating a culture of innovation.
UCCS program combines multiple areas of study.
Diversity of faculty backgrounds and why it's important to have people who have experience in their field vs. only learning from a book.
'Innovation' in the degree name is important as a distinguishing factor that will help students stand out.
How a BI can be a direct pipeline from CU to careers that benefit the state and world.
Ongoing projects already making a difference in Colorado.
Colorado Springs has the makings of a mecca of innovation – can a school at CU be dedicated to innovation?
Realizing the biggest difference any of us can make is by empowering other people to make a difference, because then the light continues.
How the students at UCCS are providing hope and a new vision for the future during tumultuous times.
Kwitek's world travels highlight the power of innovation and how every nation can add value.
The inspiration from Germany for those cool "street" signs people put in their homes and garages and how they landed Kwitek on Leno.
What Kwitek has learned from failure, and how that benefits him, as he perseveres, and his students as he guides them past pitfalls.
Learning not from focusing on the orange cones, rather the space between them.
Why innovation is different from entrepreneurship: Innovation is not stepping over the bar, it's raising it to new heights.
Resources