Podcast: Play in new window | Download
Subscribe: Google Podcasts | Spotify | Stitcher | Email | RSS | More

Endowed scholarship will benefit underrepresented medical students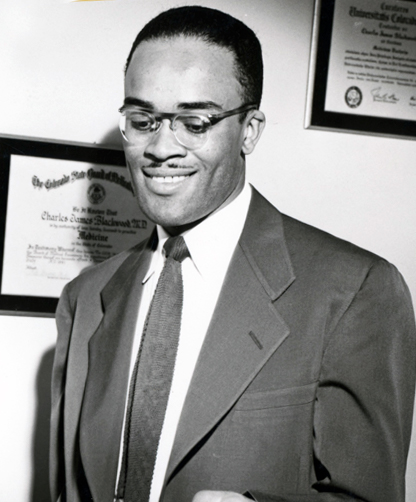 Charles J. Blackwood was born and raised in Trinidad, a small town in southern Colorado. After he graduated from high school there, he thought of running off to join a band. But his family, seeing his academic talent and potential, encouraged college instead.
He stayed local, graduating with honors from Trinidad State Junior College, before heading off to the University of Colorado Boulder on a scholarship. After earning his degree in chemistry in 1943, Blackwood entered the CU School of Medicine and in 1947 became its first Black graduate.
Now his legacy will live on with the Charles J. Blackwood Memorial Endowed Scholarship at the CU School of Medicine, announced Feb. 22. The endowment fund will initially provide funding for full scholarships for at least four students from underrepresented backgrounds who are committed to the African American community. The school intends for the endowment to continue to grow so that it can support additional scholars in perpetuity. It became a reality after private donors contributed more than $1 million, matched by $1 million each from CU School of Medicine Dean Dr. John Reilly and CU President Mark Kennedy.
The Mile High Medical Society, an organization of Black physicians and health care workers, spearheaded the private fundraising effort. And there were times, says the Society's Dr. Terri Richardson, an internist at Kaiser Permanente, when members wondered if it could happen.
"It was a dream. I thought at many times it was an impossible dream, but to really see this happen, I mean, I just can't even hardly contain my emotion at this moment that this actually happened. And it shows how you can start with a seed, with a dream and it can become reality. And I call myself a realist, so at times I said, 'Let's be real. Is this really going to happen? We're a small medical society. Can we really make this happen?' But as we went along and found out about Dr. Blackwood and really did more looking at, why is this important? We saw that we have a lot of supporters and champions out there that also believe that this is a great cause," Richardson said.
The cause perfectly ties in with a primary focus at the CU School of Medicine. The school's dean, Dr. John Reilly.
"I think the Blackwood scholarship represents a very visible example of our commitment to diversity. It represents the culmination of a partnership with the Mile High Medical Society that began about four years ago when we started fundraising for this scholarship. And it allows us to recognize the contributions that African American physicians have made at the school and in Colorado," Reilly said.
He said the scholarship could not have a better namesake that Dr. Blackwood.
"To be the first African American to graduate from our School of Medicine, to be a visible role model in the community, as a person of color, practicing medicine, to be able to build trust with patient populations that have historically had reasons not to trust the medical establishment, were all heavy responsibilities for him, but by all accounts he performed them very, very well," Reilly said.
During his medical education, Blackwood could only sit in certain places in lecture halls and his living arrangements were separate from the rest of his classmates. He graduated in the top 10 in his class. After an internship at Harlem Hospital in New York, he returned to Colorado to complete his residency at Colorado General and Denver General hospitals.
Blackwood had a long and successful career in private practice in addition to serving on the staff of Colorado General Hospital as an instructor in the medical clinic and was on the staff of General Rose Hospital. He served in the United States Air Force from 1952-55 and led efforts to establish the Radiology Department at Hamilton Air Force Base in California. He was also the first African American clinical professor of medicine at University of Colorado School of Medicine.
Dr. Richardson said during Dr. Blackwood's years of practice, he had many patients who could not pay for their treatment, but he never turned them away. Some of his former patients still talk about his kindness, compassion and the great care that they received from Dr. Blackwood.
Reilly says the collaboration with the Mile High Medical Society was important not just to raise funds for the scholarship, but also to provide additional support systems for students who can carry forward Blackwood's legacy of kindness, compassion and care.
"I think this scholarship is a visible evidence of that partnership, but more importantly or as importantly is to have the members of the Mile High Medical Society engaged in providing mentorship and clinical advice and clinical experiences for our medical students," Reilly said.
Third-year CU medical student Stephanie Nwagwu agrees that supporting future physicians will help meet critical community needs.
"It's incredibly important to ensure that we have a diverse workforce when it comes to medicine. We know, studies have shown over and over again that diverse teams work better. And studies keep showing that when people are taken care of by a team that is more diverse or the workforce looks like the patient population that they are serving, those people, those patients are served better and there's better health outcomes for those patients. So, and not only has to do with increasing the numbers for the medical school, but it also has to do with better health care for our patients overall," she said.
Recognizing the pioneering efforts of physicians like Dr. Blackwood are critical as well, Nwagwu said.
"It's really important that we show appreciation for the people that came before us and the people who opened the doors for us. It's not easy to be the only person of color, the only Black student. And we know that there was many challenges that Dr. Blackwood had to face. And because he faced those challenges, the doors are easily; well, more easy accessible to students like me. So it's really amazing to see the progression from the 1940s to now, and how much support that students of color are having now," she said.
CU President Mark Kennedy says the collaboration among the scholarship's funders to provide students that support was impressive, but perhaps more so is the result it will have.
"This is one of the many things we're doing to try to make sure that our students, faculty and staff are more diverse. And it's important within a university, but what makes me so excited about this scholarship is that it's as or more important in a medical setting, because you think of the times in your life when you're most under stress, when you really want to have somebody that you feel connects with you and understands you, and being able to have more medical professions that are reflective of the population is vitally important. So to be able to advance at the highest level medical professionals from less represented communities so that they can be out there serving the broader community is something that I take special satisfaction in," Kennedy said.
Serving that broader community is a vital aspect of the effort, says Dr. Richardson.
"My best hope is that we will attract the brightest, sharpest students to receive this endowment that will come out of school and become true community doctors where not only do they provide great medical care, but they provide care for our community so that we can be as healthy as possible.
"You're contributing to an investment in not only students, but also an investment in our community and an investment in the health of residents of Colorado. We need everyone to be as healthy as possible so we can the healthiest state in the nation. We're doing pretty good right now, but we do have some disparity, some gaps, and I believe if they support this endowment, they will support students who will go on and serve and ensure that every citizen is as healthy as possible," Richardson said.
Dean Reilly says the Blackwood Endowment is an important facet of the school's commitment to diversity, but not the only one.
"This represents but one facet of our ongoing commitment to creating a diverse and inclusive student body at the School of Medicine. In addition to this scholarship, we have the scholarships created by one of our alumni, George 'Doc' Lopez, that are currently supporting eight students in the school who come from underrepresented backgrounds. The Anschutz Foundation has contributed to an endowment for scholarships. So it is, but a very visible and an important example that we're proud of, but it is not the only effort that we're engaged in to promote diversity and broaden our student body," Reilly said.
Nwagwu says her own experience exemplifies the school's approach.
"When you ask an institution what's important to them, you can normally see the answer by where they put their dollars. So if an institution says diversity is important to them, and they're not investing actual dollars into the students that are coming into their schools and you know that it's not that important to the university. So it's really important not only to give students the opportunity to not have to worry financially about paying tuition and all of those things, but also showing that these students are very important to us.
"My hope is that students have the opportunity to achieve their goals and achieve their dreams. Medical school, as you know, is incredibly expensive, and just even applying to medical school is expensive. And it really shows that there's lack of access to greater opportunities in life. And when there are scholarships available, it opens up a window of opportunity for so many people," Nwagwu said.
Richardson says it's great to reach fundraising milestones, but notes the effort is ongoing. Contributions can be made through the link in the show notes.
"No donation is too small. If you've got $5, put it in our pot. If you have $1 million, call me up right away, but anything in between will do, because this is such a great cause. And I think Colorado, the University of Colorado Medical School, everyone, Mile High Medical Society, we can all be so proud that this endowment has occurred and there's still an opportunity to provide funds. If we get to the second million, the Dean will match that as well. So that would be just so great. And we'll be doing wonderful things for the state," Richardson said.
Dr. Blackwood died in 1993, but doing wonderful things for the community and the state was what he lived for, and his namesake endowment is a powerful legacy for a native Coloradan from Trinidad.
Resources