Podcast: Play in new window | Download
Subscribe: Google Podcasts | Spotify | Stitcher | Email | RSS | More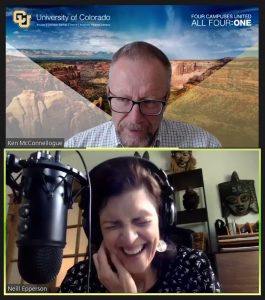 As we navigate the coronavirus, there's a great need for frank discussions about psychiatric disorders as the weeks and months roll on. CU on the Air host Ken McConnellogue speaks with Dr. Neill Epperson about her weekly podcast, Mind the Brain, which explores the many aspects of mental health during the COVID-19 pandemic. Dr. Epperson is professor and chair of the Department of Psychiatry in the University of Colorado School of Medicine.
From Yale to Penn to CU and the thrill of having two psychiatrists being married.
Mind the Brain was Epperson's brainchild, tapping into all of clinicians and scientists across the CU system surrounding the coronavirus.
Many people who used to manage stress can't anymore.
Overcoming the fear of being stigmatized.
Mind the Brain offers quick, accessible, information, resourceful information.
Groups around the State of Colorado and at the CU Anschutz Campus are promoting greater understanding of mental health and mental illness.
The doc-to-doc line because doctors often do not seek help.
Busy, busy people aren't recognizing their depression or getting the help they need.
The brain fuels the mind – you can't be healthy without having a healthy brain.
Being compassionate toward yourself and others.
Up ahead, moving toward a general Mind the Brain podcast and not focus solely on COVID.
Civil unrest, racism and reaching out to those who have been victimized.
The importance of talking to someone who seems in distress, and what to say.
Telehealth as a way in which we can decrease some of the stigma related to mental illness.
Resources